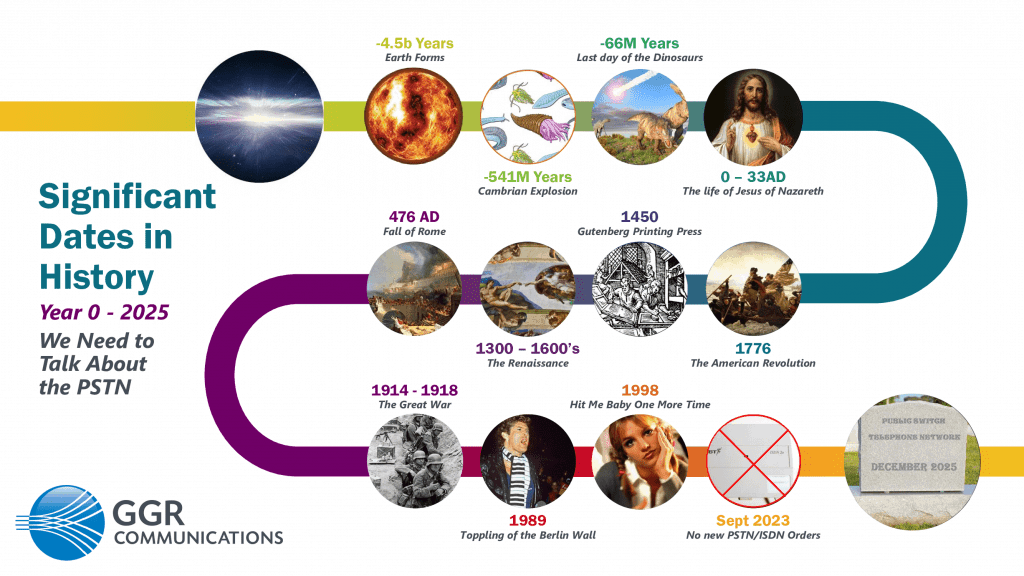 As we're sure you'll all be aware BT are withdrawing WLR/PSTN products from the UK's network in the next 5 years. For those of you who are unsure of the particulars of this orphaning programme, the following information may be of use:
What products will be affected?
The PSTN supports a number of Openreach products: WLR3 analogue, ISDN2, ISDN30, LLU SMPF, SLU SMPF, Narrowband Line Share and Classic products. These products are generically referred to, as part of the industry programme, as WLR products. When the analogue network closes in 2025 these products will no longer be available.
How much of a notice period does Openreach have to give when withdrawing products?
In the case of WLR, BT have given an initial five year notification of intent to stop selling analogue network based products and services, followed by a period of around two years for subsequent migrations and complete withdrawal of the product.
What is the WLR Withdrawal Timeline?
Timeline
November 2017
2017 BT announced its intention to close the PSTN in 2025
May 2018
Openreach consultation on WLR withdrawal launched
July 2018
Openreach consultation closed
December 2018
Final notification to stop selling products to be withdrawn (Gen073/18
May 2019
SOGEA/SOGfast planned Early Market Deployment Launch
March 2020
Target date for SOTAP to commence trials
December 2020
Five-year reminder that WLR is being withdrawn
September 2023
Stop selling new supply of WLR PSTN, ISDN2 and ISDN30
April 2025
Orphaned Assets phase
December 2025
WLR Withdrawn
What Will be the Alternatives to Copper and Fibre Lines?
Single Order Transitional Access Product (SOTAP) is a new product that will deliver a copper path between the end customer's premises and the SOTAP CPs exchange infrastructure, over which the SOTAP CP can provide broadband and IP voice services. This is different from MPF because it facilitates the use of existing exchange infrastructure which currently supports LLU SMPF and therefore provides a better experience for end customers migrating away from WLR products.
What about those unable to get reliable broadband today or who are suffering slow speeds? How will their voice service be provided in the future?
Ofcom is working on a broadband USO which should ensure every home can reasonably request broadband with minimum speeds of at least 10Mbps which will be able to support voice as well. We're fully supportive of the Government's USO and will work closely with them, Ofcom and industry to develop it.
Hopefully some of the above information has been useful. If you have any further questions, please feel