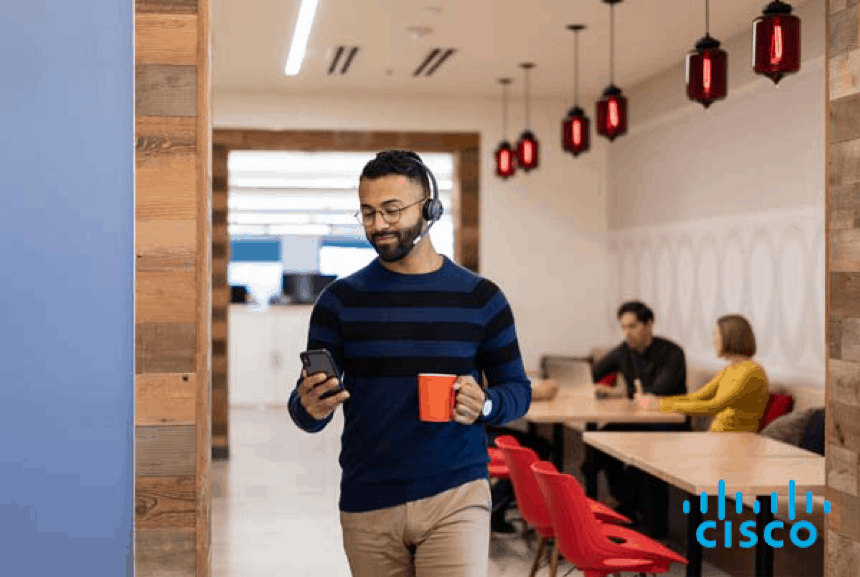 If you just thought about handsets when you pictured Cisco in your mind, you'd have been right until now… Thats because Cisco has brought out a range of great headsets too. Which are pretty nifty, with some fantastic features! Cisco is a brand that's more recognised for their desk phones rather than headsets. For years, Cisco has been known for the heritage it's built up in terms of reliable network hardware, voice networks and desk phones. However, the new wave of Cisco headsets is set to disrupt the market and pave the way for clearer communication within enterprise and call centre environments.
The modern work environment is becoming increasingly mobile and hands-free. As a result, Cisco has positioned its product portfolio into the future with the Cisco 500 Series. These are essentially a selection of multimedia headsets ideal for eliminating distractions in the business environment and improving worker satisfaction. This is a new move for Cisco as aside from desk phones they have never really ventured into the headset market. The section of the market is known for poorly designed headsets that have terrible build quality, are uncomfortable to wear and bad audio quality. Cisco's 500 series is set to change that. These units can be used as a standard phone headset as well as an audio headset for listening to music on.
Solving the Problems of the Modern Workforce
Historically, audiophiles have been the only ones who have enjoyed high-quality audio. Well, great audio quality is now available to everyone in the modern workplace. The Cisco 500 Series offers a full range of wired and wireless devices with deep integrations with other Cisco voice hardware which allows for easy setup and effortless administration. This new range allows people to enjoy the outstanding audio performance and great quality noise isolation packed into a lightweight form factor. All of this with the flexibility you need in order to stay productive within a modern, open work environment.
Whether you're listening to music as you work to maintain productivity or engaging in an important call within a busy office environment, Cisco wants to make sure that you have the endpoints you need to thrive.
The Cisco 500 Series headsets are designed specifically to help people connect with the benefits of the Cisco voice network. This series of devices are designed to accommodate the worker of tomorrow. Now individual users can customise the audio settings for their individual headsets. Cisco engineers have created the earphones so they are optimised for the best performance possible with Cisco soft clients, infrastructure and devices.
The options available include:
The 530 Series: Intended to support the needs of contact centre employees with features like noise reduction, excellent audio quality, and quick-disconnect
The 560 series: The latest models in the 500 series (the 561 and 562) are wireless DECT headsets. These units use the latest encryption technology for end-to-end peace of mind. The 560 models, like the 530 models, come with an LED on the earpiece which shows when users are on a call. The 560 models also feature the option to choose from a single-source base station, or multi-base station with support for a maximum of four audio sources
The 520 series: Two new wired models that give employees the option to take calls from laptops, mobile devices and IP phones alike are also available. The 521 and 522 UC headsets come with a lightweight design, great sound, and a flexible USB adapter or 3.5mm headphone jack for easy use
Easy-to-Use Headset Innovation
Whichever headset in the range that you opt for, you'll find they've got incredibly high quality and are flooded with incredibly helpful features that are a joy to use. From the moment you plug a Cisco headset into a phone from the Cisco IP Phone 8800 series, you'll be guided through a simple process for set-up. This setup set allows you to customise your audio settings, and adjust microphone boost as required.
One of the great pluses for the Cisco headset range is that there is an easy to use management system for the IT team. Through the Cisco Unified Communications Management Suite, IT teams are able to manage to perform firmware updates, monitor headset inventory and deliver diagnostics. All of this within the same control panel they use to manage their UC infrastructure with no need to touch any hardware. No additional software is required and this, of course, reduces complexity and the associated headaches!